Microsoft QuickBasic: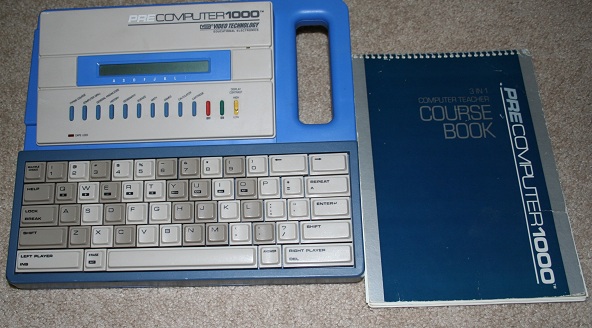 I received this as a Christmas gift when I was just 10 years old...the PreComputer 1000 by Video Technologies.
Its display was limited to a scrolling LCD, and there were sound effects, but a very limited sound card, so...Its main purpose is to teach you how to type: There are a series of lessons incrementing in difficulty where you must read and type from the book on the right (stand it up), and it would tally all your mistakes and time you as well. As you can see, it has trivia questions for science, history, geography, math, and a calculator...and you can insert cartridges for similar trivia questions on sports, general knowledge, etc.
One cool feature (beyond the typing lessons) are if you turn the book over, there is a section labeled Computer Drill: Yes, this device actually came with a BASIC interpreter, thereby teaching various commands, one program at a time! Although I did not realize its significance at the time, I was learning Beginners All-purpose Symbolic Instruction Code as a fifth grader! This is the same high-level programming language that was used to program MS-DOS!
I admit, I pretty much let this machine collect dust while I took up the saxophone in junior high band the following 2 years...but I found myself writing little programs when I was in 8th grade, just for something to do on a Sunday afternoon, for example...and that next year, as a freshman in high school, I focused more on my musical interests (considering the demands of marching band, etc.)
But with the explosion of the Internet in the 90s and the popularity of Windows 95, e-mail, the dot-com boom--in the latter parts of high school I was spending more and more time with computers...and then I discovered that the LCD on my PreComputer no longer functioned, so I held on to the book, however useful in explaining the BASIC programming language...this picture is of a PreComputer I purchased from eBay a couple of years ago.
I did take a course in QuickBASIC (QB) in my undergrad, and I have even bothered to learn some of TI-BASIC: Any of the 80-series graphing calculators made by Texas Instruments are programmed with a version of BASIC, so they include an interpreter that allows you to write your own programs such as games, additional advanced features etc. I have even seen high school derby & demolition challenges where students attach their TI-80 series graphing calculators to a thin piece of wood (about the dimension of their calculator), but with wheels, and using the programs they wrote, can 'race' against and even crash their calculators-on-wheels with other such programmers using TI-BASIC!

BASIC originated in Dartmouth (N.H.) in 1964, and many versions of it have surfaced since, depending on the kind of computers that used it. That's why the original version is now called Dartmouth BASIC, which was similar to a popular programming language at the time, FORTRAN. A high-level programming language is the opposite of what you might think: It is actually used more by amateur programmers than by computer scientists who have degrees in engineering etc. The syntax of a high-level programming language resembles that of everyday language, or the code may appear as abbreviations etc. Assembly languages are a bit more cryptic, as they are used to create interpreters: An interpreter is a program that processes the code from a high-level programming language one line at a time. An example of this is QBASIC. Then there is machine language, which is all in binary (0s and 1s), and is used by highly skilled computer scientists to convert all the code from either high-level programming languages such as BASIC or assembly language (I do not know or use any myself) into binary, which is what computers understand. It is very tedious work and error-proned. QuickBASIC is the full compiler version of Microsoft's version of BASIC (MS-BASIC), used by Bill Gates and Paul Allen in the 1970s & 80s to create MS-DOS for use on IBM PCs. Because many companies employed programmers skilled in both assembly and machine languages, various versions of BASIC emerged as each company could edit it for use for such different computers. Hence, there was Atari BASIC, TI-BASIC, AppleBASIC, and more. I also took a programming course in logic that introduced me to Visual Basic, which was Microsoft's version of BASIC for Windows (a GUI environment, or Graphical User Interface).
While Visual Basic is still used to create many of the apps in Windows as well as to design much of its interface, I understand you're concern that I might be making to big a deal of BASIC...but I still think BASIC will still be around for some time to come:
Many businesses, especially those that use POS (Point-Of-Sale) terminals such as: The food industry (restaurants), movie theaters (to purchase tickets), retail stores (their registers) etc. often employ terminals made by Panasonic, Fijitsu, and even IBM where the software programs they use run on either a Unix or DOS-based system, and if it is DOS, it is probably programmed in BASIC, due to the text-only interface...I have even worked for at least 3 companies where I used a PC running Windows but the main program we used was Unix or DOS-based software (e.g., AS-400), an all text-based interface implying that it was programmed in either BASIC, COBOL, etc.
By the way, I have also taken a course in Structured COBOL (COmmon Business Oriented Language) during my undergrad, but because it is the programming language most associated with the Y2K/Millenium Bug, I can't imagine anyone requesting me to create an app using COBOL in this millenium...
So why do many businesses still use a text-based interface (Unix or DOS)? Because of the small file sizes! If your employees have to nagivate a system that accesses many customer records (like I did when I worked as a CSR at a bank) then disk space becomes a cost issue. I know, I know--even that is less of an issue in recent years, but the simple fact is that such files (customer info records) load up much faster and without errors when the data that the system has to process is only made up of some manipulation of text (like Unix and DOS are); and I agree: If it were my money/decision, I would bet that ANY company with an operating system or software program that uses a graphical user interface (e.g., Windows, MacOS, etc.) will be costly, require frequent maintenance/upgrades, and will crash much more often than a company who uses a program written in BASIC.
With all that technical jargon been said, I'd also like to point out that BASIC is used to program traffic lights, elevators, ATMs, street signs (those that businesses use to advertise special sales via a scrolling marquee that can even display the current time and temperature), as well as many of the electronic toys you can find in the children's section/aisles at Target, Wal*Mart, etc. such as "My 1st Laptop", LeapFrog, etc. as ALL of these have an LCD display (just like the basic arithmetic calculators at the Dollar Store) which means they can be/probably are programmed in BASIC...and yes, we are well more than a decade into the 21st Century!
For everything else, there's either the Internet (hence, I learned HTML in the latter part of high school and even taught it to continuing education students during my first year of college), just as much of this site is programmed in JavaScript, and then there is Visual Basic: Microsoft's verion of BASIC for Windows applications...please feel free to visit my links/sites to view/download some of my apps!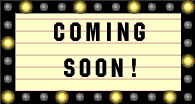 Please check back as I am busy updating my QuickBasic apps and will post them along with a FREE compiler!