Frames pages are a way to include multiple pages together within a single browser window or tab; each frames page, or frameset, acts as a template that loads pre-existing pages into their specified positions or frames; by keeping the pages in a frameset, each new page loads independently of the others; this allows you to keep the site's navigation separate from the main content or any other features you may wish to include on each page.
The use of frames pages in a Web site is also a convenient way to manage and edit the site's contents; for instance, if the navigation buttons were on the same page as the main content, you would have to change the navigation on every page whenever it needed an update; however, by using a single page as the main navigation, you only have to make changes on that page.
Simply put, visiting a site that uses frames is a page whose code only consists of displaying two or more other pages, and that code just instructs the browser how to partition the window (or tab) into columns and/or rows--where each row and/or column is a different page that occupies a specified amount of the browser window, either in pixels or as a percentage of the total height (rows) and/or width (columns). Similar to tables, using frames allows you to display many elements of your entire site and organizes them in a way that, if no border is set, probably is not even noticed by the visitor. Common uses of frames, for example, are:

Banner advertisements: Usually at the top of the browser window, it expands the entire (or almost) width of the screen, but also usually no more than 10-15% of the total height of the screen. Most of my sites, including this one about JavaScript (this HTML guide exists as two pages within that site which is linked to my main homepage), have such a frame--it is a separate page as you can see that actually has a borderless table inside of it to align the time/date, welcome greeting as well as any appropriate images that may or may not be clicked as hyperlinks. Banner pages are considered a frame row, and not a frame column.
Sidebars: Usually located along the left edge of the browser window, sidebars are considered a frame column. However, they can also exist along the right side of the browser window, if aligned to do so. These frames usually occupy most of it not all of the height of the window. Such content typically includes a menu of hyperlinks that either open in a new window (or tab) if they are separate sites, or they may link to individual pages that can be displayed within another frame currently visible. As you can see from browsing most of my site(s), I seem to prefer to use sidebars more for aesthetic appeal--they serve no other actual purpose.
Main content: This frame usually occupies the majority of the browser window, and therefore may be the only frame within a frameset that is allowed to have scrollbars.
Links: Most professional sites (especially those of large companies) may have sidebars that include hyperlinks in addition to separate frames for banner advertisements at the top and of course their main content frame, but usually also have a series of hyperlinks at the bottom of their site, as do I. Having a frame with links that is separate from the main content allows visitors to always have access to elements of your site that is beneficial for navigational purposes, such as a link for 'Contact' or one that returns the visitor back to the main page, and more. Never leave your guests wandering through your pages in order to find basic elements that should always be accessible!
Contents Frame
This will serve as the site's global navigation, which is the page containing all the main buttons, as well as other links and e-mail addresses, for navigating through the site; contact information is usually placed somewhere on this page as well; this is convenient because it offers the user easy access to the navigation, rather than having to scroll back and forth to find links; the contents frame can also be used for displaying banners, which are graphic links to other sites; each link you click on will open a page in the main frame; this is a way to open any external links (links to other Web sites) inside your site; in a normal non-frames page, linking to another Web site will cause the user to leave your site; by keeping the external site within a frameset, the user won't leave your site.

Code Example:


<HTML>
<HEAD>
<TITLE>Left Frame</TITLE>
<BASE TARGET="Main">
<.HEAD>
<BODY BGCOLOR="#BFCAE1">
<P>
<B>
<FONT FACE="Arial">
This is the Left Frame for navigation.
<P>
<A HREF="main_frame.htm" TARGET="Main">
Home
</A>
<A HREF="second_page.htm" TARGET="Main">
Page 2
</A>
</B>
</FONT>
</BODY>
</HTML>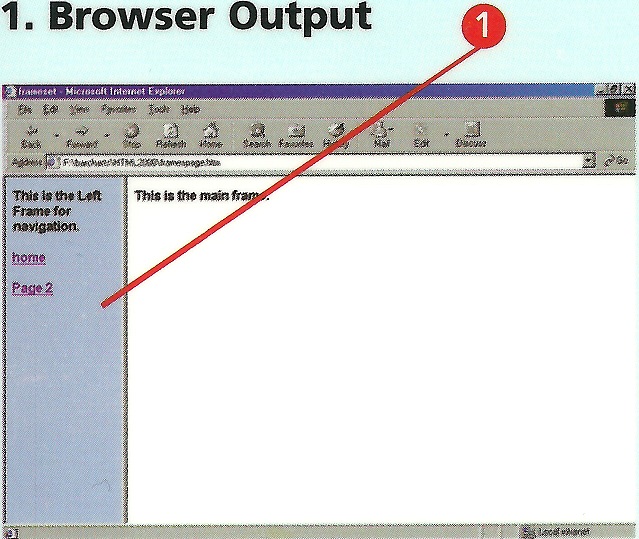 Note: The Code Example above shows use of the <BASE> tag (which has no end tag). The purpose for this tag is to tell the browser which frame to load pages into from links clicked from any other page within the frameset...by giving one particular frame a name of 'Main' and instructing the browser (with the BASE tag), then all hyperlinks will open only in the frame named 'Main'. However, you can bypass this with the TARGET attribute of the anchor tag (I waited until now and not earlier when first discussing hyperlinks so as not to confuse what TARGET would even be used for). Using the TARGET attribute is only applies to frames, as each frame is given a name in the FRAMESET tag (discussed further below). By specifying a name such as 'Main' as a value for the TARGET attribute, all links are opened/loaded into the 'Main' frame...but even if the BASE tag specifies a default TARGET, use of individual achor tags (Hyper-Reference = 'link') that also use the TARGET attribute can instead open a link in a different frame, or in a new window (or tab) altogether, by using the following value:

<A HREF="different_site.html" TARGET&61;"_BLANK">Open link in a new window</A>

Main Frame
This will be the main page, where the bulk of your content will go; all links from the contents frame will open in the main frame including links to other sites, if you choose.

Code Example


<HTML>
<HEAD>
<TITLE>Main Frame</TITLE>
<BASE TARGET="_self">
<.HEAD>
<BODY>
<P>
<B>
<FONT FACE="Arial">
This is the main frame.
</B>
</FONT>
</BODY>
</HTML>

You can even create frames inside the main frame; floating frames or in-line frames appear inside the page; simply place the following tag inside the body of the document, specifying the page to be loaded:

<IFRAME SRC="iframe1.htm"></IFRAME>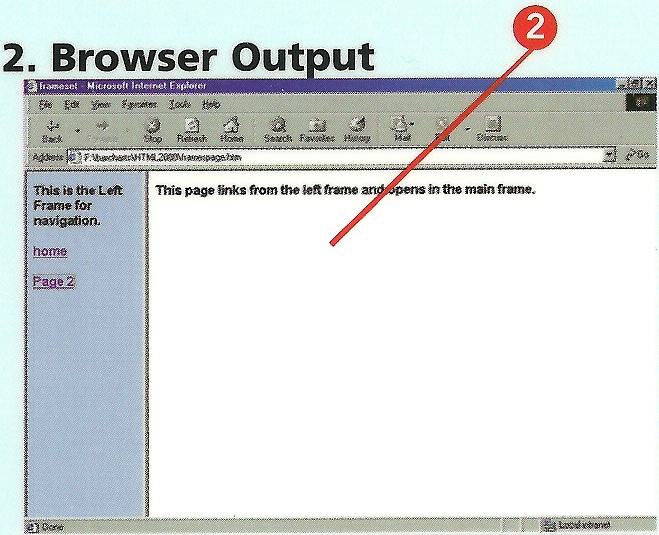 Ir is important to keep the users from completely leaving your site when you offer links to other sites; normally, without frames, this is done by opening a new browser window (or tab), which may leave your site open but obscures it with the new window; frames pages allow you to open a page from another site within your own site; to do this, simply link the external pages to open in the 'Main' frame.
Frameset
Now that you have the individual pages already built, you need to create the frameset, which will load both pages into one, as separate frames; there are many ways to layout a frameset; with a header or a footer, with a banner and contents, and even with in-line frames; in this instance, where the frames are divided vertically between the 'contents' frame and the 'Main' frame, they are treated as columns; you can set the size of the frameset columns in the first tag, based on a percentage of the entire page:
<FRAMESET COLS="20%,80%">
The <FRAMESET></FRAMESET> tags will replace the <BODY></BODY> tags found in normal HTML documents; the entire page should look like this:
<HTML>
<HEAD>
<TITLE>Frameset</TITLE>
</HEAD>
<FRAMESET COLS="20%,80%">
<FRAME NAME="contents" TARGET="Main" SRC="LeftFrame.htm">
<FRAME NAME="Main" SRC="main_frame.htm" SCROLLING="AUTO">
<NOFRAMES>
<BODY>
<P>
This page uses frames, but your browser doesn't support them.
</BODY>
</NOFRAMES>
</FRAMESET>
</HTML>
Note: The example above uses columns (as per the COLS attribute), but if your frames consists of horizontal rows, then replace that attribute with ROWS. Also, notice that no end tag is used for the FRAME tags. In addition, you may have noticed the second FRAME tag the use of the SCROLLING attribute: You may or may not want vertical or horizontal scroll bars to appear, therefore the SCROLLING attribute has 3 possible values: TRUE, FALSE, or AUTO (FALSE prevents scroll bars from appearing, even if the content of such frame extends beyond what is visible in the frame; and the AUTO value becomes TRUE only in the event that such frame has enough content to warrant such scrollbars).
The <NOFRAMES></NOFRAMES> tags should be placed before the </FRAMESET> tag whenever frames are used, in the event that the user's browser does not support frames (or if you somehow messed up in your code and therefore such frame info will not be displayed). Therefore, using the <BODY></BODY> tags are necessary at the point to establish a body for your Web page with such text notice...
When building framesets, it is important to make sure they look the same in different browsers; just because a page looks good in Microsoft Internet Explorer doesn't mean it will work in other browsers! Recall what I mentioned about downloading all 5 major browsers (Microsoft Internet Explorer, Apple Safari, Mozilla Firefox, Google Chrome, and Opera), as they are all free, safe, do not take up large amounts of space, easy to find on-line and install, and will allow you to check your pages for compatibility. If you have both a Mac and system running Windows, download all 5 of these browsers on both platforms (especially if there is a difference in screen resolution between computers), as well as viewing your work on browsers from mobile devices (e.g., cell phone Web browsers, iPod Touch, iPad, etc.).
By default, there will be borders on the frames; to eliminate the borders, you must specify the following inside the initial <FRAMESET> tag:
<FRAMESET COLS="20%,80%" FRAMESPACING="0" BORDER="0" FRAMEBORDER="0">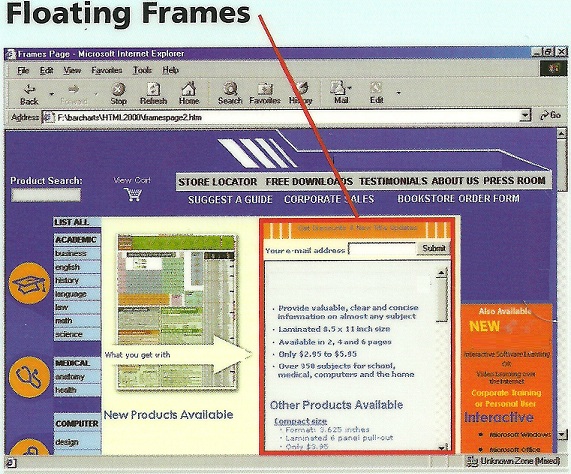 Floating frames (windowless, inline frames) are great when you have a lot of text but don't want the design of the page to scroll.
To create an inline floating frame, use the <IFRAME></IFRAME> tags:
<IFRAME NAME="Frame1" SRC="frame.htm">
</IFRAME>
The IFRAME tags creates a floating frame at its location in the HTML file; Microsoft Internet Explorer renders the frame inline; the SRC (source) attribute specifies the content to be displayed within the frame.
You can also place content into the previous IFRAME tag by using a frame destination as follows:
<A HREF="http://www.neilsite.net" TARGET="Frame1">
Visit Neil's Site!
</A>